Really?
I like the statement – "Manage process and lead people". But what about innovation? We still struggle to understand if it is process, or people mindset, or some combination.
We know innovation is a lot about exploratory action and Leadership that empowers action. There is still room for managing it particularly in corporate setting, which must manage risk.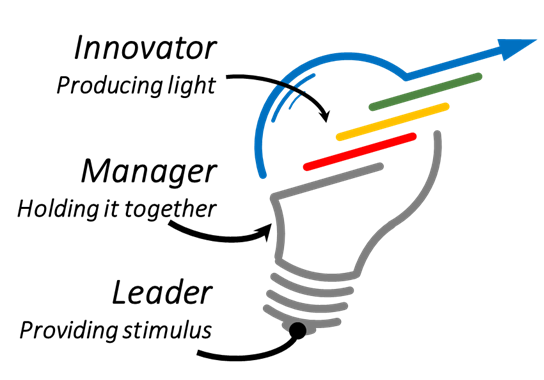 Innovation, Managing, and Leading
There is a lot written around managing vs leading, as applicable to people, processes, and business. Some of that when viewed through the innovation lens, looks like:
| Innovators | Innovation Managers | Innovation Leaders |
| --- | --- | --- |
| Solve complex problems | Control complexity in development | Transform company, industry & ecosystem |
| Develop new products & services | Deliver to the roadmap | Create vision, strategy, and roadmap |
| Create future they conceive | Predict the future based on trends | Prepare for the unpredictable future |
| Deploy their expertise to resolve situations | Organize, staff, and manage resources | Align expertise and offerings with markets |
| Create new outcomes | Prevent negative outcomes | Promote positive outcomes |
| Be creative and explore | Control creativity and experimentation | Empower people to experiment and learn |
| Develop their expertise | Assess the expertise and fill the gaps | Proactively fill gaps to required expertise |
| Build relationships of value | Re-structure to accomplish goals | Create relationships to be highly effective |
| Do it the way they know best | Do it the right way | Do the right things |
| Defend their viewpoint | Sell solutions to get everyone on board | Acknowledge & surface healthy conflict |
| Collaborate, learn, & produce | Motivate but control collaborative practices | Inspire collaboration and learning |
| Strive for excellence | Maintain a Center of Excellence | Build a Network of Excellence |
| Want to feel important | Want to look important | Make others feel important |
| Compete and collaborate as required | Create competitive strategies to win | Create collaborative strategies for win-win |
| Focus on Innovation Value Chain | Focus on Innovation Framework | Focus on Innovation Purpose and Mindset |
In Summary,
An innovation focused organization needs all three roles – leaders, managers, and innovators. I emphasize the term 'ROLE' and not 'TITLE'. I have seen CTOs actively engaged in technical discussions and engineers creating vision and collaboration with competitors for a win-win.
A successful innovative organization allows a bit of all three across all its staff – from technician to the C-suite. That cross over through working meetings and casual chats, in person or virtual, promote sound teamwork, transparency and integrity, and internal empathy; so much needed to be adaptive and agile.
If you like this blog post, you will like my book series "Inspiring Next Innovation …." available on Amazon and summarized in these book launch webinars on YouTube.
For Leaders –
Inspiring Next Innovation Purpose,
Available on Amazon Watch on YouTube
For Innovators –
Inspiring Next Innovation Value Chain,
Available on Amazon Watch on YouTube
For Managers –
Inspiring Next Innovation Framework,
Available on Amazon Watch on YouTube
For Leaders –
Inspiring Next Innovation Mindset,
Available on Amazon Watch on YouTube
To engage with the author – please register for upcoming virtual sessions.