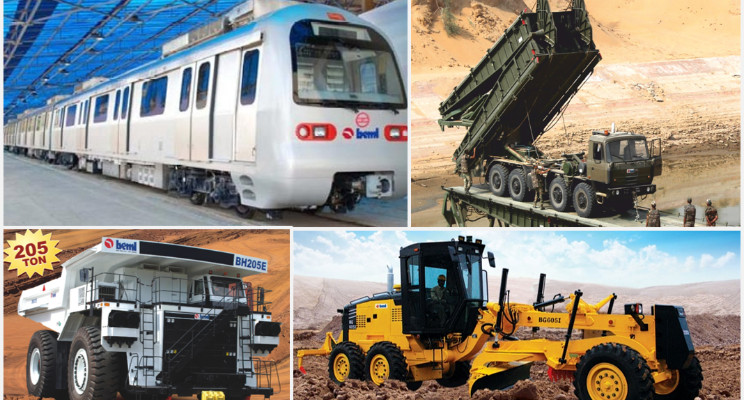 That's how I felt about BEML when I recently read about them.
What makes this $500 million India public sector undertaking, capable of serving diverse industries with such advanced engineering products; exporting to 67 countries?
As a part of my study on "How the BIG innovate" quick research about BEML brings out the underlying philosophy – Know Why and Customer Connect.
Know-Why, not just Know-How
BEML has undergone many transformations in order to remain competitive and grow, by developing the design capability, they call it know-why, and systematical indigenization of the products over the years. The company has a dedicated team to meet the technological demands through in-house R&D and strategic technical tie-ups with global players (what we call open innovation). In the same spirit, BEML works closely with India's top institutes to train their staff as well improve the products.
The R&D center is focused on the core disciplines – structures, fluids, materials, electronics, numerical simulation, validation testing and evaluation. The team brings these disciplines, together with know-why, to promote design innovations in key product enablers and technology differentiators – transmissions, axles, hydraulics, and electronics.  Digital design and virtual validation approach is helping accelerate new product design.
From online-research, Under the Make in India Initiative, it appears that BEML is promoting and sponsoring startups working towards innovation, development, deployment or commercialization of new products, processes or services driven by technology or intellectual property.
BEML seem to build competencies and capacity in house, going out selectively for specialized subject matter requirements, not just business reasons. And this strategy is also serving them well, something that we in the western world should learn.
The training program, appears to be one of most extensive, I come across for a large organization. It is strategically structured to continuously assess the needs and build all of the competencies in line with business objectives, through a network of training centers and down to individual development plans. Learning and development enthusiasts, please check out http://www.bemlindia.com/Beml_Training_Development.aspx
Customer Connect, not just Customer Service
BEML does well in engaging their user-customer over the entire product life cycle process. From R&D perspective, BEML actively seeks out information on prospective plans for system development. BEML expects customer participation in development & manufacturing process, quality control, and periodic reviews. They deploy QFD (Quality Function Deployment) to new products and technologies; and test them in house as well as at customer sites. All this helps in understanding the complexities, overcoming field issues and continuous product upgrades. The full-fledged service centers and parts depots offer total equipment care, maintenance contracts and rehabilitation services. Just the right approach to go a few steps beyond customer service.  In some sense, it is Know-Why from customers perspective, completely aligned with design Know-why philosophy.
Know-Why and Customer Connect enable BEML to serve India's core sectors like Defense, Rail, Power, Mining and Infrastructure, so effectively.
Going Forward:
The article above is based on online research. In my personal opinion, with "Know-Why" as a sound philosophy for both customer and design, there are a few things that will further accelerate BEML growth, that BEML is perhaps already working on.
1.     I am sure, very soon BEML will recognize innovation as a discipline, and introduce it as a part of the training program at all levels of the company.
2.     BEML has embarked on their digital strategy with ERP and PLM systems. I think the leadership is smart enough to keep the R&D away from traditional productivity and quality systems, known to stifle creativity. BEML will likely adapt or build their own digital Enterprise Innovation Framework as a part of the overall product development and customer success strategy.
3.     Government of India has a majority stake in BEML. Media reports indicate that Govt is divesting a part and a number of private entities have their eye on that opportunity. This could be a turning point for BEML Product line, if they keep their focus on innovation, and possible synergies with flagship products from new industrial partner-investors.
4.     The startup sponsorship program will likely mature into separate Incubator and Accelerator programs for rapid technology development, validation, and transfer to the product line.
5.     The thought process that has emerged from "Gaining Know-How" to "Seeking Know-Why", will evolve to "Asking Why-Not" and bring disruption into these big machines, when time is right.
References
BEML Citizen's Charter; http://www.bemlindia.com/writereaddata/Downloads/20170723181446Citizens_Charter.pdf
BEML Website: www.bemlIndia.com
Economic times news, https://economictimes.indiatimes.com/markets/stocks/news/suitors-line-up-to-pick-up-26-stake-in-beml/articleshow/57311130.cms
https://www.inspiringnext.com/wp-content/uploads/2020/01/The-BIG-can-Innovate.jpg
400
744
Ripi Singh
https://www.inspiringnext.com/wp-content/uploads/2021/06/logo-340x156-1.png
Ripi Singh
2018-01-18 09:32:32
2022-01-11 07:42:28
The BIG can Innovate: Know-Why Model at BEML