Really?
The single most important differentiating factor in the success of an innovation initiative is the user/customer insight, not opinions. Strive to make the customer successful, because what they are asking today may not be enough for them to be successful.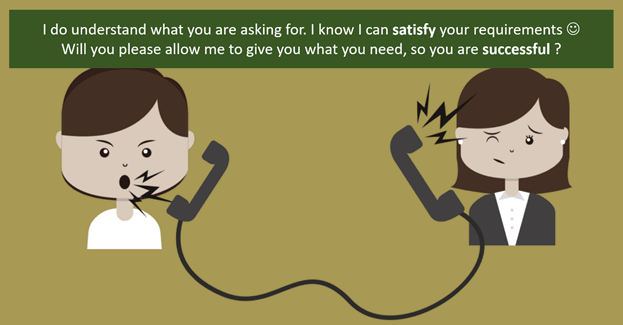 Selfie from 2016
I was brought in to accelerate new product development in a Business to Business (B2B) scenario. The client created advanced materials for ICT sector. They had some rare talent and know-how but were struggling to compete on speed to market. Their material development cycle was typically 18-36 months, which was too long for their customer developing ICT hardware, which goes obsolete in 24-36 months. A simple discovery session into their sales process revealed the root cause. The Account Managers would wait for the Requests for Proposal (RFP) from the customer's purchasing department. By then, it was typically too late to address the development cycle time. This client needed the ability to forecast their customer requirements at least a year ahead of the formal RFP in addition to accelerating the R&D activity.
Now, if you come to think of it, your customer just does not wake up one morning and issue an RFP. We all know, they work on it for a while! It is upon us to think like our customers or connect with them at their development roadmap level. So, we put an important new connection in place where the client's R&D head would connect with the R&D head of the B2B customer to forecast their requirement, while the sales team tracked the RFP. Our client got the ability to deliver quality materials and gave them a competitive edge over their direct competitors, playing the speed to market game. On some specific items, they got exclusive development partnership programs to even offset part of the investment because of their unique engineering talent. Since then, we have successfully implemented this technique with a few other companies to build their innovation profile. It works.
Customer Insight
As Theodore Levitt said, "People do not want a quarter-inch drill, they want a quarter-inch hole."  Strategyn's 'Jobs to be Done' Framework (Theory to Practice; Anthony W. Ulwick; Book; 2016) centers around the concept that instead of thinking about what features or benefits a customer would want to buy, an innovation should instead try to find out what job/activity/outcome a customer is trying to accomplish, and then develop something which helps them achieve that outcome.
Simply asking people what jobs they have is unlikely to result in any insightful answers, as people themselves often do not realize or cannot verbalize what they are trying to accomplish. What you need are insights, not opinions. You need a profound and unique knowledge about customer's pain points and desirable gains. We should also consider the fact that often customers know what they do not want, even though they may fail to articulate what they want. For example, customers did not know they wanted Netflix, … they knew they did not want late fees and limited movies! Cry of the customer is a for of VOC.
Steps to Capture Customer Insight
Hopefully, you concur that you must aspire to understand what makes customers successful, not just satisfied. On many occasions, customers show requirements that are a level lower than what the problem they are trying to solve. Best practices include building a team of marketing and domain experts, reaching deep into the marketplace including customer's customer, and gathering customer roadmap/intent, wherever practical. The steps below show various levels, providing progressively better insight.
Conduct data research and analysis, using tools such as Google, Government databases, 3rd party research databases.
Conduct discovery Interviews with standard questions, with a focus on listening rather than selling, getting to facts and not opinions, asking why?
Shadow and observe customer actions, reactions, emotions, feelings.
Immerse yourself in customer's daily life, and make a note of your actions, reactions, emotions, feelings.
Create a prototype or simulation and test your hypothesis or run the 'What if' conversation with customers.
More on Customer Insight
Customer insight is more than what product features or service performance the customers will receive during the transaction. It also involves delivery (how and where they receive it), consumption, and payment (how and when) aspects. Today, data is becoming a valuable commodity, and most of us do not keep it with us either. Online retailers are monetizing millennial's desire to not go to the shop, whatever the product.
Customer insight is more than a process in the marketing department to get customer input. It is intertwined with ongoing company engagement cultural improvements, and the most vital part of any innovation culture.
As an example, look at the difference between the success of Sony's Action Cam and GoPro action cameras. While Sony may deliver better quality videos, GoPro has been far more successful because it was designed to address customers' desire to film themselves in action. By giving users ways to mount the camera on helmets, bikes, even on their dogs, and to rapidly edit and share footage, GoPro solved a real problem. It fulfilled a conspicuous customer desire and subsequently won massive customer market share (48 percent to Sony's 8 percent in 2015, according to investment research and analytics company Market Realist. Robertson notes, "Sony had every advantage in the marketplace, But GoPro started with what the customer wanted, and that's how they came out ahead."
In Summary,
Customer insight means much more than what the customer is asking for. It means interpreting what they would be willing to pay for. It helps understand the consumer, so your innovation has a better chance of market acceptance.
If you like this blog post, you will like my book – "Inspiring Next Innovation Value Chain" available on Amazon.
If you wish to engage with me in a conversation, on this topic, please register for an online session on Feb 25, 2021 at 9AM ET co-hosted by Nerac.
https://www.inspiringnext.com/wp-content/uploads/2021/02/Focus-your-Innovation-on-customer-success.png
325
623
Ripi Singh
https://www.inspiringnext.com/wp-content/uploads/2021/06/logo-340x156-1.png
Ripi Singh
2021-02-08 05:56:21
2022-01-12 07:34:09
Focus your Innovation on customer success, not just satisfaction