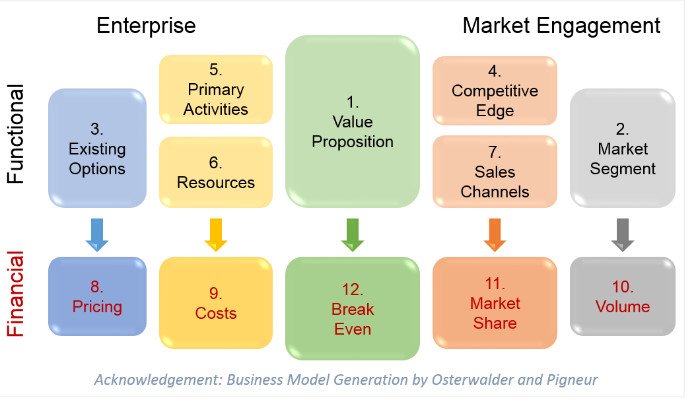 Every business is a growth business, as long as the stakeholders are interested in growth.  Once again, here is how you can put your growth strategy on a one page landscape and confidently forge ahead. Refer to the graphic and fill in 12 boxes in the sequence as numbered,
(you already know from part 1, why you will hop around)
Growth Goal
Let's say 10x10y (grow 10 times in 10 years) or more aggressive 5x5y (grow 5 times in 5 years)
1.    What is your Growth proposition?
Scale up existing business – locally, spread geographically, acquire competition, go franchise, …
Leverage peripheral opportunities – in lateral domains, or adaptive/emerging markets, …
New Value proposition – through a startup of a new business line, lateral/complementary acquisition.  This line of thinking will be similar to Part 1.  This may be combined with onboarding of a new leader.
2.    What market segments are you going after?
Expansion – New offering to existing customer, new markets for existing offering, lateral segments, global/emerging, …
Types: Mass market, niche market, specific customer(s), segmented & diversified, multisided platform, …
3.    What are existing options with the customers today?
Watch out! Emerging competition to existing business, competition in lateral domain and new market segments, …
For new line – there may be none to many options.
4.    What is your competitive edge?
Sustained competitive position – with transferable advantage,
Acquisition advantage – Potential, Excellence in execution, Image, …
5.    Primary activities you need to undertake for this venture?
Facilities – Scale up or replicate,
Organizationally – Leadership transformation, management training, restructuring, lean processes, refocus (divestiture), financing, IPO, risk management, … This is a big deal and usually one of the top reasons that stalls growth.
6.    What is your resource requirement?
Of course, more of the existing for scale up.  In addition, most business would need consulting, coaching, investment capital and reserves, renewed board of advisors, new suppliers and partners,  …
7.    What sales channels would you be using?
Increasing the bandwidth of existing sales channels (Physical/virtual/vending/partner stores), and add new channels based on new offerings and markets. Think rebranding if that helps boost sales.
8.    What is your pricing model?
Same structure with same/revised price or a new pricing structure (deterministic/opportunistic)
Your answers in box 3 (existing options) determine the maximum you can charge.
9.    What are your costs?
Scale up costs and acquisition costs (One-time, fixed, unit costs, negotiable)
Your answers in box 5 & 6 (activities and resources) determine the minimum you can achieve.
10.  How much capacity does market have for your offering?
Untapped capacity, new opportunity for redefined offering. (Millions for Mass, down to a few)
Your answers in box 2 determine the best you can hope for.
11.  What market share do you expect to capture?
Organic growth in existing market, expansion into lateral markets, Acquired market share, monopolizing market? – What %age during sustained growth period, and mature stage…
Your answers in box 4 & 7 (competitive edge and sales channel) determine the maximum you can capture.
12.  What will your growth look like?
Now you can create a pro-forma invoice for 5 to 10 years, looking at topline sales, EBITDA, and net assets.
Your answers to box 9 & 11 will help you determine if you would meet your 10X or 5X growth goals.
End Game
We started with a growth proposition in Box 1 and end up with growth pro-forma, just below, in Box 12.
The boxes on the left are the enterprise side and right side is about engaging with the market.
The upper row of boxes is all about functional or execution and lower row is all about financial aspects.
Each financial box is primarily related to the functional boxes just above.
If the growth goals are not achievable, think about where in the upper row you can make changes to adjust the equation in the lower row. You may end up going all the way back to redefining your growth proposition.  And that is OK.
You balance this out, you are good to grow THE business multi-fold in near future.
Acknowledgement: The inspiration for this model came from Part 1 which is based on the Book – "Business Model Generation" by Alexander Osterwalder and Yves Pigneur.
Source : "Business Blueprint Simplified Part 1 – New Business Line"
https://www.inspiringnext.com/wp-content/uploads/2020/01/Business-Blueprint-Simplified-1.jpg
400
698
Ripi Singh
https://www.inspiringnext.com/wp-content/uploads/2021/06/logo-340x156-1.png
Ripi Singh
2016-01-21 05:44:56
2022-01-11 07:30:32
Business Blueprint Simplified – Part 2 – Business Growth