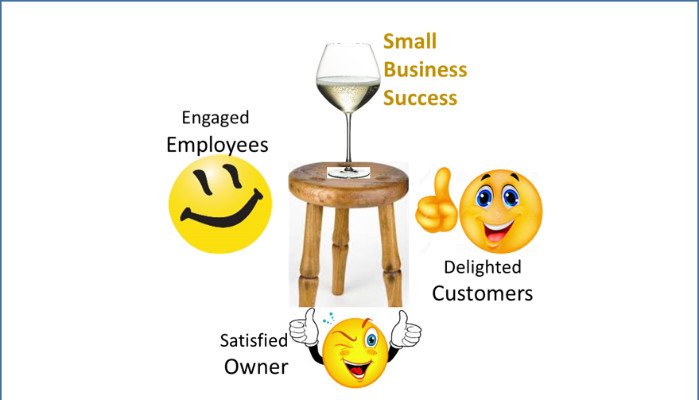 Are the CUSTOMERS Happy? – How many customers would recommend you to their social and professional network? Also known as Net Promoter Score (NPS).
Are the EMPLOYEES Happy? – How many employees would recommend their friends and family to come work for you? We can pretty much use the concept of NPS here as well.
Are the OWNERS Happy? – At the end of every year, ask yourself, would you want your kids to inherit this business?
1. When customers are not promoting you, then…
You need to figure out the source of customer dissatisfaction.  In my experience,  it typically comes from one of these categories (a) Product / Service Quality, (b) Timeliness of Delivery, (c) Price, and (d) How the customers are treated.
The solution lies in interpreting customer expectation, industry trends, improving business productivity, focusing on innovation, and finally managing customer expectations.
2. When employees are not promoting you, then…
You need to figure out the source of poor employee engagement.  The results of my survey of companies across multiple countries show it is generally some combination of these categories (a) Type of tasks/projects relative to competency/interest, (b) Development and career growth opportunity, (c) Compensation, reward and recognition, and (d) Respectful work environment (dominated by supervisor attitude).
The solution generally lies in a structured organization with visible career path, training and development activities, reward and recognition programs, plus consistent and fair management practices.
3. When owners are not satisfied, then what …
Ever since I started my own business and started coaching other business owners, I have a much better appreciation of what we look for. Of course, sales and profits need to come first, otherwise there is no business.
The solution here is in keeping your employees engaged who in turn would keep customers delighted, bringing sales and profits.
However, business owners look to satisfy that inner desire, the purpose for which they got into the business.  They also look for branding, social and industry respect, hopefully without sacrificing work-life balance.
Sometimes, this is where they need to re-look at their business model.  Except for this emotional element of the owner, all other items can be quantified easily.
If you own and operate a business – can you quantify how satisfied are your CUSTOMERS, EMPLOYEES, and your FAMILY and most importantly YOU?   If not, do you know how to measure it, and then how to improve it?
for more information please visit us at www.inspiringnext.com
https://www.inspiringnext.com/wp-content/uploads/2020/01/small-business.jpg
400
699
Ripi Singh
https://www.inspiringnext.com/wp-content/uploads/2021/06/logo-340x156-1.png
Ripi Singh
2015-09-17 05:08:18
2022-01-11 07:28:56
3 Questions that a small business owner should ask